Share
Mogadishu (SONNA):The President of the Federal Republic of Somalia, H.E Mohamed Abdullahi Farmajo, has sent his deepest condolences to the family, friends and entire Somali people on the death of the former Minister of Defense, General Abdirahman Mohamud (Ali-Bayr) who passed away in Nairobi kenya.
During his life, General Abdirahman served as Somalia's Defence Minister, Member of Parliament and Commander of the 60th Division of the Somali National Army General Abdirahman was awarded the  National Defense Medal in 1964.
General Abdirahaman has also been instrumental in rebuilding the government by holding key positions in the Transitional Federal Government.
"I pray for the late General and may the Almighty give patience and faith to his family, relatives and the entire Somali Nation.
Indeed,we belong to Allah and to him we shall return,may his soul be placed in the highest rank of Jannah," Said President Farmajo.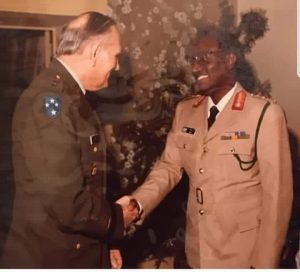 @Mohamed Sabir
Share